Browsing all articles in All
An option to adjust the size of the cast from anywhere between 2 and 50 players has been added to the Circle Simulator. The Relationships and Sympathy attributes have been combined under Sympathy. All existing simulations can still be loaded.
This functionality had been coded in from the beginning. It just needed activated, and now serves as a good time to test a template with the Big Brother Advanced Template coming to BrantSteele.com (with saving and voting charts) and a Survivor Template coming in the near future. The Survivor template's eventual goal is to contain customization options that should be able to produce seasons 33 – 37 and eventually all of the seasons. These 5 seasons will be loaded from the template with pre-configured settings for each season.
Cast photos for the new castaways revealed today for Survivor: Edge of Extinction have been added to all of the simulators.
If multiple versions are released, the alternate cast photos will be added as well.
Additionally, a cast page was added to see them all together. Please report any issues in the comments or the Contact Form. Thank you.
The next step in finalizing the Survivor simulator seasons 33-37 will be releasing a custom Survivor template that can be configured to match the twists of the seasons, along with other seasons. More details will be shared this weekend.
The Totem Pole Simulator has been released on BrantSteele.com. You can simulate the season here.
This is based on a new YouTube reality show by @wesleydbryant. The premise of the show is the following: 13 players compete to avoid the bottom of #TheTotemPole and try to survive the vote until only 1 player remains. You can watch the first episode here to learn more about the format. You can also follow the series on Twitter at @TotemPoleGame
The full cast and logo are also now available to use throughout all of the other simulators. The Totem Pole Simulator is currently a simple simulator in terms of logic, but it contains different twists to create a variety of scenarios simulating. If no major bugs are reported, saving will be added in 48 hours. Please provide your feedback on this simulator and report any bugs in the comments.
1/27 Update: Saving has been added.
2/1 Update: Episode 2 is out here! With this update comes challenge logic to the simulator and the new profiles page. Stay tuned for an additional update with Episode 3 next Friday at 9:00 PM eastern time.
The fifteen contestants in RuPaul's Drag Race season 11 have been added to all of the simulators. This season will premiere following the completion of RuPaul's Drag Race All Stars season 4 on VH1.
Please report any issues. Thank you!
Due to user request, I added an attribute to distinguish official cast photos from unofficial ones.
Each show will have just one set of "official" cast photos per season – which typically consists of the officially released photos of the characters/contestants active on that season. For example, the cast photos for the 32 finalists for Survivor Cambodia – Second Chance are now considered unofficial along with Mellisa McNulty from Survivor Fiji. Most recent Big Brother, Survivor, and The Amazing Race seasons have multiple sets of cast photos, but just one set will be considered official.
An attribute has also been added for 'host' images, which are also considered unofficial. There are only 2 host images currently included.
On BrantSteele.net, unofficial cast photos and host photos will no longer show up in Random Mode. On the BrantSteele.com simulators, you will have the option to use these or exclude these in your Random Cast.
If any cast photos are currently added that you consider Unofficial, please report them for review. Thank you. I believe a few contestants were added to various shows who didn't actually compete in the seasons.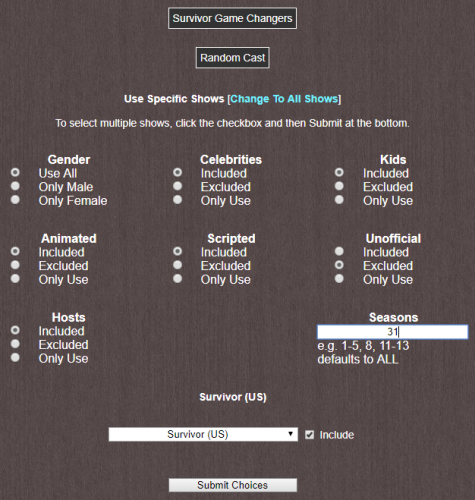 Cast photos have been added for the 33rd season of MTV's The Challenge: War of the Worlds, featuring 34 contestants from a variety of reality television shows. This season is set to premiere on February 6th, with a launch special airing January 30th.
In addition, a new set of cast photos was released for Celebrity Big Brother US 2. You can view the full cast here.
Today, more special characters (as in letters) were added to the BrantSteele.net simulators for season names, tribe names, and player names and nicknames. If there are any characters you're trying to use that aren't supported yet, let me know, and they will be added to all of the simulators.
Please report any issues you see.
Cast photos for the seventeen housemates in Big Brother Brasil season 19 have been added. This season just began airing.
Please report any issues. Thank you.
In addition, bugs with Big Brother seasons 1 and season 3 where personalized casts couldn't be edited after loading a saved season were fixed.
Cast photos have been added for the 2nd US season of Celebrity Big Brother, featuring 12 celebrity houseguests. This season is set to premiere on January 21st.
You can view the full cast here.
Please report any issues you see. If more official cast photos are released, they will be added as well.
A new display for past tribes has been added, along with the ability to change alliances and relationships weekly. These features are available on the five BrantSteele.com Survivor simulators.
The next Survivor update will contain logic improvements and more display changes, along with a new secret advantage system. This update may be broken into multiple parts.
The internal structure was changed behind all 5 of these seasons, so there's a high likelihood for bugs, especially for Ghost Island and David vs. Goliath. Please list any you see, and I'll list the ones that are fixed below. Thank you.
You might have to close and restart your browser to see some of the CSS could be cached and needs refreshed.
Bugs Fixed:
S34 & S36: Exiled players return to the correct tribe in the event of a medevac.
S35: Merge targeting threats, not weak players.
S36: Ghost Island explained in merge episode.
Fixed legacy advantage gifting text showing up in seasons with data from the previous simulation
Fixed issues with cast data for Angelina Keeley, Kyle Massey, and Jeremy McConnell
S33-S37: Wrong cast members displayed in the final three while using Weekly Changing Relationships.
S33-S37: Fixing the above bug caused an issue with fan favorite, which was fixed without causing any additional bugs.
S33-S37: Fixed issues with targets only displaying on the active episode you are simulating, for weekly changing relationships.
S34: Only one tribe should be shown winning immunity in episode 4.
S34: Episode 8 now shows individual, rather then tribal immunity.
S33-S37: Tribal rewards after swaps were showing the past tribes winning.
Palau: Name of merge tribe appearing as <> resolved.
S36: Navigation links fixed in episode 10.
More special characters are now allowed in season names, tribe names, and player names/nicknames in all of the BrantSteele.net simulators.
Original Survivor: Tribe names should no longer turn to lowercase in edit cast.
Micronesia, Tocantins, Cagayan: Rare winner display bug showing false tie fixed.
Survivor Fiji: Fixed finale episode navigation.
Survivor Panama: Fixed the finale reward challenge.
Worlds Apart: So's nickname fixed
Samoa: Reward Challenge 10 added to Navigation Links
Nicaragua and One World: Final events page just showed the text "1"
Keep reading for more details about the latest Survivor changes.
read more
The ten contestants in RuPaul's Drag Race All Stars Season 4 have been added to all of the simulators. The logo for season 38 of Survivor has also been added to the logo list in the newest simulators. Please report any issues. Thank you.
In addition, the following bug fixes were made:
Fixed issues with nicknames for Mike Chiesl and Kenya Michaels
Fixed issues with Shangela's cast photos for seasons 2 and 3

Twitter: brantsteele
Poll #2: Which dating show would you most want to see made into a BrantSteele simulator? https://t.co/QaXpsbZVAi

Both Hell's Kitchen (43%) and MasterChef (35%) advance to the next round.

Continuing the survey to see interest for the next new simulators, here's poll #1 for most wanted cooking show simu… https://t.co/X9M2MJdort
Partnerships
Survivor ORG Wiki - Experience the game of Survivor online. Strategize, make alliances, and take part in challenges as you play against people from all over the world.
Survivor Wiki - Study everything Survivor with Survivor Wiki's vast array of information on contestants, tribes, seasons, episode summaries, challenges, twists, and more!
Recent Subreddit Posts
Archives