Due to user request, I added an attribute to distinguish official cast photos from unofficial ones.
Each show will have just one set of "official" cast photos per season – which typically consists of the officially released photos of the characters/contestants active on that season. For example, the cast photos for the 32 finalists for Survivor Cambodia – Second Chance are now considered unofficial along with Mellisa McNulty from Survivor Fiji. Most recent Big Brother, Survivor, and The Amazing Race seasons have multiple sets of cast photos, but just one set will be considered official.
An attribute has also been added for 'host' images, which are also considered unofficial. There are only 2 host images currently included.
On BrantSteele.net, unofficial cast photos and host photos will no longer show up in Random Mode. On the BrantSteele.com simulators, you will have the option to use these or exclude these in your Random Cast.
If any cast photos are currently added that you consider Unofficial, please report them for review. Thank you. I believe a few contestants were added to various shows who didn't actually compete in the seasons.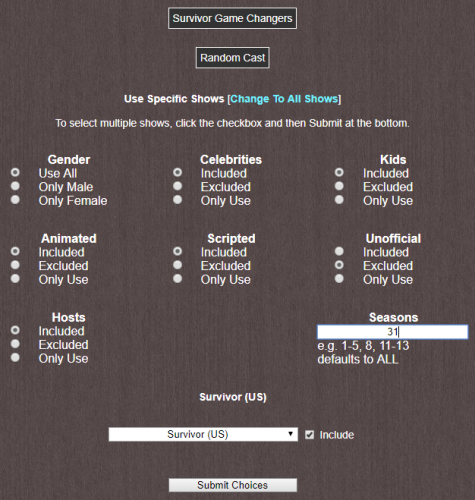 2 Comments to "Cast Photo Organizational Change"
Twitter: brantsteele
Poll #2: Which dating show would you most want to see made into a BrantSteele simulator? https://t.co/QaXpsbZVAi

Both Hell's Kitchen (43%) and MasterChef (35%) advance to the next round.

Continuing the survey to see interest for the next new simulators, here's poll #1 for most wanted cooking show simu… https://t.co/X9M2MJdort
Partnerships
Survivor ORG Wiki - Experience the game of Survivor online. Strategize, make alliances, and take part in challenges as you play against people from all over the world.
Survivor Wiki - Study everything Survivor with Survivor Wiki's vast array of information on contestants, tribes, seasons, episode summaries, challenges, twists, and more!
Recent Subreddit Posts
Archives