A new display for past tribes has been added, along with the ability to change alliances and relationships weekly. These features are available on the five BrantSteele.com Survivor simulators.
The next Survivor update will contain logic improvements and more display changes, along with a new secret advantage system. This update may be broken into multiple parts.
The internal structure was changed behind all 5 of these seasons, so there's a high likelihood for bugs, especially for Ghost Island and David vs. Goliath. Please list any you see, and I'll list the ones that are fixed below. Thank you.
You might have to close and restart your browser to see some of the CSS could be cached and needs refreshed.
Bugs Fixed:
S34 & S36: Exiled players return to the correct tribe in the event of a medevac.
S35: Merge targeting threats, not weak players.
S36: Ghost Island explained in merge episode.
Fixed legacy advantage gifting text showing up in seasons with data from the previous simulation
Fixed issues with cast data for Angelina Keeley, Kyle Massey, and Jeremy McConnell
S33-S37: Wrong cast members displayed in the final three while using Weekly Changing Relationships.
S33-S37: Fixing the above bug caused an issue with fan favorite, which was fixed without causing any additional bugs.
S33-S37: Fixed issues with targets only displaying on the active episode you are simulating, for weekly changing relationships.
S34: Only one tribe should be shown winning immunity in episode 4.
S34: Episode 8 now shows individual, rather then tribal immunity.
S33-S37: Tribal rewards after swaps were showing the past tribes winning.
Palau: Name of merge tribe appearing as <> resolved.
S36: Navigation links fixed in episode 10.
More special characters are now allowed in season names, tribe names, and player names/nicknames in all of the BrantSteele.net simulators.
Original Survivor: Tribe names should no longer turn to lowercase in edit cast.
Micronesia, Tocantins, Cagayan: Rare winner display bug showing false tie fixed.
Survivor Fiji: Fixed finale episode navigation.
Survivor Panama: Fixed the finale reward challenge.
Worlds Apart: So's nickname fixed
Samoa: Reward Challenge 10 added to Navigation Links
Nicaragua and One World: Final events page just showed the text "1"
Keep reading for more details about the latest Survivor changes.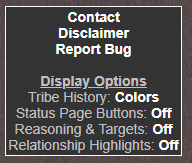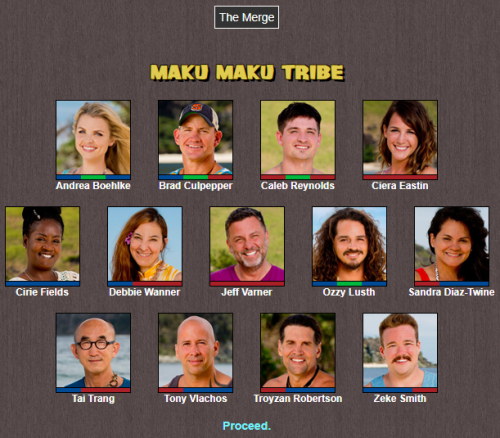 Thank you for continuing to simulate.
22 Comments to "Survivor 33-37 Updates, Part 1"
Twitter: brantsteele
Points will start on Week #2, and your alternate will replace your choice if they are evicted on Week #1. Sign ups… https://t.co/ZLojgomBJO
As a last minute decision, we are doing a Big Brother 22 (All-Stars) Prediction Game this season. You can select 4… https://t.co/tsCYBit3j6

As usual, another set of cast photos emerged with a different background that will also be added. Please report any more you see.
Partnerships
Survivor ORG Wiki - Experience the game of Survivor online. Strategize, make alliances, and take part in challenges as you play against people from all over the world.
Survivor Wiki - Study everything Survivor with Survivor Wiki's vast array of information on contestants, tribes, seasons, episode summaries, challenges, twists, and more!
Recent Subreddit Posts
Archives