Browsing all articles in All
Due to user request, I added an attribute to distinguish official cast photos from unofficial ones.
Each show will have just one set of "official" cast photos per season – which typically consists of the officially released photos of the characters/contestants active on that season. For example, the cast photos for the 32 finalists for Survivor Cambodia – Second Chance are now considered unofficial along with Mellisa McNulty from Survivor Fiji. Most recent Big Brother, Survivor, and The Amazing Race seasons have multiple sets of cast photos, but just one set will be considered official.
An attribute has also been added for 'host' images, which are also considered unofficial. There are only 2 host images currently included.
On BrantSteele.net, unofficial cast photos and host photos will no longer show up in Random Mode. On the BrantSteele.com simulators, you will have the option to use these or exclude these in your Random Cast.
If any cast photos are currently added that you consider Unofficial, please report them for review. Thank you. I believe a few contestants were added to various shows who didn't actually compete in the seasons.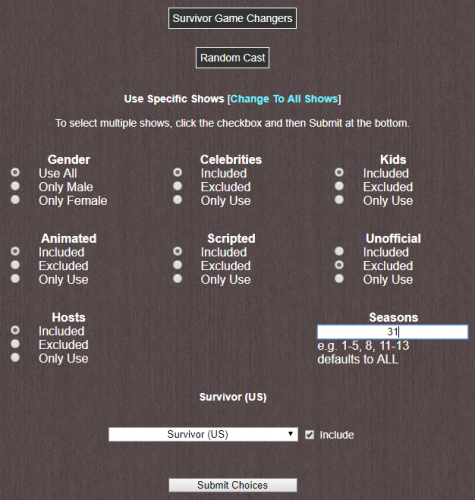 Cast photos have been added for the 33rd season of MTV's The Challenge: War of the Worlds, featuring 34 contestants from a variety of reality television shows. This season is set to premiere on February 6th, with a launch special airing January 30th.
In addition, a new set of cast photos was released for Celebrity Big Brother US 2. You can view the full cast here.
Today, more special characters (as in letters) were added to the BrantSteele.net simulators for season names, tribe names, and player names and nicknames. If there are any characters you're trying to use that aren't supported yet, let me know, and they will be added to all of the simulators.
Please report any issues you see.
Cast photos for the seventeen housemates in Big Brother Brasil season 19 have been added. This season just began airing.
Please report any issues. Thank you.
In addition, bugs with Big Brother seasons 1 and season 3 where personalized casts couldn't be edited after loading a saved season were fixed.
Cast photos have been added for the 2nd US season of Celebrity Big Brother, featuring 12 celebrity houseguests. This season is set to premiere on January 21st.
You can view the full cast here.
Please report any issues you see. If more official cast photos are released, they will be added as well.
A new display for past tribes has been added, along with the ability to change alliances and relationships weekly. These features are available on the five BrantSteele.com Survivor simulators.
The next Survivor update will contain logic improvements and more display changes, along with a new secret advantage system. This update may be broken into multiple parts.
The internal structure was changed behind all 5 of these seasons, so there's a high likelihood for bugs, especially for Ghost Island and David vs. Goliath. Please list any you see, and I'll list the ones that are fixed below. Thank you.
You might have to close and restart your browser to see some of the CSS could be cached and needs refreshed.
Bugs Fixed:
S34 & S36: Exiled players return to the correct tribe in the event of a medevac.
S35: Merge targeting threats, not weak players.
S36: Ghost Island explained in merge episode.
Fixed legacy advantage gifting text showing up in seasons with data from the previous simulation
Fixed issues with cast data for Angelina Keeley, Kyle Massey, and Jeremy McConnell
S33-S37: Wrong cast members displayed in the final three while using Weekly Changing Relationships.
S33-S37: Fixing the above bug caused an issue with fan favorite, which was fixed without causing any additional bugs.
S33-S37: Fixed issues with targets only displaying on the active episode you are simulating, for weekly changing relationships.
S34: Only one tribe should be shown winning immunity in episode 4.
S34: Episode 8 now shows individual, rather then tribal immunity.
S33-S37: Tribal rewards after swaps were showing the past tribes winning.
Palau: Name of merge tribe appearing as <> resolved.
S36: Navigation links fixed in episode 10.
More special characters are now allowed in season names, tribe names, and player names/nicknames in all of the BrantSteele.net simulators.
Original Survivor: Tribe names should no longer turn to lowercase in edit cast.
Micronesia, Tocantins, Cagayan: Rare winner display bug showing false tie fixed.
Survivor Fiji: Fixed finale episode navigation.
Survivor Panama: Fixed the finale reward challenge.
Worlds Apart: So's nickname fixed
Samoa: Reward Challenge 10 added to Navigation Links
Nicaragua and One World: Final events page just showed the text "1"
Keep reading for more details about the latest Survivor changes.
read more
The ten contestants in RuPaul's Drag Race All Stars Season 4 have been added to all of the simulators. The logo for season 38 of Survivor has also been added to the logo list in the newest simulators. Please report any issues. Thank you.
In addition, the following bug fixes were made:
Fixed issues with nicknames for Mike Chiesl and Kenya Michaels
Fixed issues with Shangela's cast photos for seasons 2 and 3

A test version has been released of the Survivor 36: Ghost Island simulator. This season shares most of its code with Survivor seasons 33, 34, 35, and 37. Due to the more complex structure of this season, there may be more bugs, which I'll address as soon as they're reported.
The Ghost Island exile twist is incorporated into the season, and castaways can wager their vote and potentially lose it inside the simulator. However not all of the secret advantages are fully implemented at the present time. They will be added in one of the two remaining large Survivor updates before the .com structure is finalized. More news on these updates could be posted in a few days.
There were tribal council issues with all 5 of these seasons where players that should have been immune were vulnerable after idols and special advantages cancelled all of the votes. A fix was incorporated to handle this. As the secret advantages get incorporated, more changes will be needed to handle new scenarios.
Please report any issues. I'll list the bugs fixed here, for both the original 32 seasons and the new seasons 33-37. Thank you. Edit: Comments are now enabled in this post.
Bugs Fixed:
– Cook Islands: Reward text fixed in episode 6
– S35: Tribe names for reward challenges have been corrected

– S36: Episode 2 immunity winning tribe display fixed
– S36: Changed nickname to Gonzalez for Stephanie Gonzalez
– S36: Second tribe swap is no longer alphabetical order
– S36: Fixed newly formed alliance names in episode 10
– S36: Fixed Shuffle tribes.
– S36: Fixed the events to correspond to the appropriate tribe in episode 10
– S36: Fixed an incorrect tribe's idol potentially being found episode 2
– S36: Fixed the tribe outline for the second tribe after swaps
– S37: Fixed newly formed alliance names in episode 5 through the end of the season
– S37: Fixed the tribe outline for the second tribe after swaps
Opening immunity idols were fixed in Micronesia and Gabon along with male and female immunity winners in several other seasons including All-Stars, Cambodia, Nicaragua, Philippines, Samoa, and Worlds Apart. Voted out castaways and castaways of the wrong gender could win immunity during these challenges previously. Thanks to the many users who have been reporting these Survivor bugs for the older seasons, and please let me know if I missed any.
In order to make the BrantSteele.net simulators easier to update, I made a few adjustments to the server. If you see any new issues on the .net Big Brother, Survivor, or Hunger Games simulators it may be a result of these changes, and I'll address them as quickly as possible.
Thank you for your continued feedback.
Update:
Another error was fixed in the Survivor Pearl Islands simulator where the immunity winner at the merge tribal council may not have actually had immunity.
An error was fixed with Survivor Worlds Apart where the merge idol could be found by multiple players.
Episode 10 of Survivor Micronesia wasn't showing who had idols and whether or not they played them.
The BrantSteele simulators will return in 2019, as the two servers and domains have both been renewed. In the second half of the year, I will be exploring alternate means of funding to help generate more updates.
Entering January, the focus will remain on getting the Survivor simulators for seasons 33 – 37 caught up to original 32 seasons and to improve them beyond that with features such as voting charts. The Ghost Island template is almost completed in test form. Following that release will be two large updates for Survivor including weekly changing relationships and the new secret advantage system in addition to small improvements each update.
Once these changes are completed, the focus will shift to the interactive Survivor template along with other simulators besides Survivor. Some surprises are planned throughout the year, and there will be polls to make sure that plans for the simulators align with what users would most like to see.
Thank you to everyone who continues to use and support the simulators, even through the slow times like the past two years. User feedback submitted through the Contact Form and social media, especially the Discord server, has been very helpful. The community staff and I will continue to try and improve the experience.
A test version has been released of the Survivor 35: Heroes vs. Healers vs. Hustlers simulator. There was just limited testing, so some small bugs are to be expected.
This season shares most of its code with Survivor seasons 33, 34, and 37. A "Shuffle Tribes" option has been added to all four of those seasons.
Idols and special advantage items are not complete in any of these seasons. After Game Changers is released, a new special item structure will be added to better handle these, and the voting algorithm will be updated based on this change.
Please report any issues. I'll list the bugs fixed here. Thank you.
Bugs Fixed
– Some of the tribal rewards in S33, S34, and S37 displayed duplicate winners.
– Exiled castaway in S34 joins correct tribe if there's a quit or medevac.
– Incorrect tribe names displayed with immunity winning tribes pre-merge
– Episode 12 reward winner not shown.
– 12th and 13th place incorrectly listed as jurors on the placement page.
Partnerships
Survivor ORG Wiki - Experience the game of Survivor online. Strategize, make alliances, and take part in challenges as you play against people from all over the world.
Survivor Wiki - Study everything Survivor with Survivor Wiki's vast array of information on contestants, tribes, seasons, episode summaries, challenges, twists, and more!
Recent Subreddit Posts
Archives